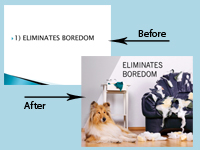 OMG, It's Almost Like You Read My Mind! At least once a month I get an email from someone who sees their redesigned slides for the first time and they say, "How did you do that? It's almost you read my mind, only it looks better than I could have imagined!". This month's blog has been all about WHY presentation design is important. We've talked about WHO benefits from presentation design, HOW the process of working with me goes, and WHAT difference presentation design makes for the audience.
Don't just take my word for it though, read more to find out what your peers are saying! (and take a peek at some of their before and after slides
http://laserpointerpresentations.com/PowerPointKeynoteSlideDesignPortfolio.html
MY PRESENTATION IS BETTER USING GREAT SLIDES "I kept saying 'PowerPoint slides make some speakers Powerless and I am one of them.' My REAL reason was I knew mine were not done the way they should and I had no idea who to turn to. Wow… Margy I am totally blown away at how much better my presentation can be with you helping spiffy up my slides. Thanks so much."
Linda Miles, International Speaker, Author, Dental Consultant, Founder of Speakers Consulting Network and Oral Cancer Cause Foundation.
PRESENTATION DESIGN HELPS KEEP THE AUDIENCE FOCUSED For NYU Symposium and DentalXP National Symposium: "I would not have been able to make the slides have the eye catching design and organization that Laser Pointer was able to create. Margy Schaller is very knowledgeable in using presentation design to keep the audience focused on what is being presented. I was impressed with how fast the work was done by Laser Pointer and was very happy with the final product."
James Rivers, DMD, MHS, International Speaker, Retired Professor and Chair of the Department of Oral Rehabilitation, College of Dental Medicine at the Medical University of South Carolina
WELL DESIGNED SLIDES ARE MORE MEANINGFUL TO THE AUDIENCE "I love to surround myself with talented and smart people. Margy is one of the smartest people I know! It has never been a problem for me to get great revues on my speaking skills but I have never gotten a comment on my material until Margy came along. My participants commented on how much the material made sense to them. If you have knowledge or a skill and want others to truly find value in your material…call Margy, she will take your material to another level. She makes sense of my words and stories better than my words and stories do alone!"
JoAn Majors, RDA, Professional Speaker and Published Author
I DIDN'T HAVE TIME, BUT NOW OTHERS ENVY MY SLIDES! "I've been presenting lectures for over thirty years. The content I've used has been easy for me. However, getting the message across has always been a struggle. I've always envied speakers who have state-of-the-art visual messages. With my busy work schedule there is no way I can spend the time researching how this is done. I am so fortunate to have found Margy Schaller to help me. She is just awesome and so easy to work with. She has added that dimension that I had been seeking."
Thomas Kepic, DDS, MSD, Private Practice, Upland, CA, Board of Trustees, American Academy of Periodontology
As I mentioned in the first article of this series, I have learned that my highest value is in helping others become their very best selves. My all time favorite moment was when I got a call from one of my client's husbands. He told me that he felt compelled to thank me because his greatest joy was in seeing his wife happy. He went on to say that he had never seen his wife so energized and proud of her lectures since she started working with me. If we work together, what will you do with the time I can save you? Will you have more family time, more time in nature, more time to reconnect with yourself? And can I help give you that boost of confidence with amazing looking slides? Give me a call and let's get started today!