Laser Pointer's Presentation Design Praised at The 24th Annual NYU/ICOI Implant Symposium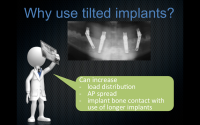 On November 1st, Dr. James Rivers unveiled a new lecture at the prestigious 24th Annual NYU/ICOI Implant Symposium. His lecture, "Tilted Implants, Angled Abutments and Restorative Solutions," offered
an alternative to dentures.
Dr. Rivers, Professor and Chair of the Department of Oral Rehabilitation, College of Dental Medicine at the Medical University of South Carolina knew time was going to be tight to get this lecture
together. His fall schedule was hectic, the cases he was doing for this presentation were not going to be completed until weeks before the program, and he needed to create something standout for this
Symposium.
So he turned to Laser Pointer, a presentation design firm specializing in dental and medical presentations. In September, he sent them a rough overview of the presentation he wanted along with some of the data slides. Laser Pointer, which also specializes in adult learning methods, proposed a different approach than the traditional lecture flow. Rather than offering the standard series of data slides followed by case after case, Laser Pointer wanted to create a presentation narrative. "Let's take one of your patient cases, and weave it all the way through the lecture, making it a story that your audience can relate to from the initial consult, into your decision making process, and then through the entire treatment."
"People tend to zone out on bullet slides so we come up with creative ways to translate the same information visually" said Margy Schaller, President of Laser Pointer. "To keep this story line intact, we created an image of a patient file, and then added 'case notes' to that image as Dr. Rivers told the story throughout the presentation."
With only two weeks to go, Dr. Rivers sent the final case images to Laser Pointer. Using a deep knowledge of the subject matter, Laser Pointer was able to complete the PowerPoint deck and get final feedback from Dr. Rivers within days. "I would not have been able to make the slides have the eye catching design and organization that Laser Pointer was able to create. Margy Schaller is very knowledgeable in using presentation design to keep the audience focused on what is being presented. I was impressed with how fast the work was done by Laser Pointer and was very happy with the final product."
The presentation was met with acclaim at the Implant Symposium. The types of questions asked indicated the audience had a good understanding of the material presented. One attendee commented
how much he appreciated Dr. Rivers lecture, "…the content, delivery and visually engaging slides made it an excellent presentation."
Laser Pointer presentation design service offers over 15 years experience in the medical and dental education field, a certification in instructional design and a passion for excellence. Contact them at www.laserpointerpresentation.com for an estimate.