Laser Pointer Identifies Startling Statistic That Will Help Clinicians Grow Their Referral Network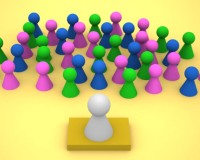 Less than 10% of clinicians routinely refer to specialists that they don't know. Relationships and education are the keys to developing and
maintaining a strong network.
In today's competitive healthcare landscape, medical and dental specialists are finding themselves spending an ever increasing amount of time and money finding and keeping referral clinicians. Insurance policies and healthcare networks can limit to whom and when a general practitioner can refer a patient. Marketing firms tout advertising, content marketing, social media and physician sales liaisons as a must. But it turns out that less than 10% of clinicians routinely refer to specialists that they don't know. Laser Pointer, a presentation design firm, knows that relationships and education are the key for doctors and dentists extend their reach and grow their referral network.
Laser Pointer's president, Margy Schaller has been in the medical education field for over 15 years. During this time, she has seen the power of relationships and education in action. When a periodontist suddenly had a large drop in the number of referrals from local General Practitioners, he called around and found out that a new practice had opened up with lower prices. Unwilling to reduce his prices, the Periodontist immediately invited all current and prospective GPs to a dinner lecture. His topic was "Interdisciplinary Treatment of the Periodontal Patient" and covered the need for close communication, alignment in treatment planning and patient follow up. Before long, referrals started coming back,
and two new GPs started working with him. Relationships matter in healthcare, and education is a key way to bring something of value to the plate. Margy advises, "Specialists must constantly be finding ways to GIVE, not just to GET."
These two key principles work in all healthcare fields because they are based upon filling a need. Successful specialists consistently
employ the following tactics:
1.
Focus On Relationship Building
General Practitioners want to refer to someone who they trust, who they feel is competent and believe in their approach to patient care.
With so many vendors and patients clamoring for their attention, the GP welcomes someone who is there as a resource. Laser Pointer advises specialists to listen first. Find out their referrals' needs and share knowledge. The really successful specialists even ask for feedback on their practice's performance with patients and
adjust accordingly.
2. Provide Education
Many General Practitioners suffer from patient and information
overload. Done correctly, specialists have been able to grow
their network by hosting regular lunch or dinner programs. They
give short lectures that provide clinical nuggets by translating a
myriad of data into manageable action steps. Other education
programs that help the GP include patient education lectures or staff
training programs on the specialist's area of expertise.
Many specialist clinicians shy away from the education aspect, finding
it overwhelming to put a lecture together. Laser Pointer's
service enables these specialists to properly assemble a lecture,
create a slide deck and receive speaking tips to deliver education that
wows attendees. Using a combination of adult learning principles
(what's in it for me), and an image driven approach (vs. text heavy
slides), Laser Pointer helps clinicians offer a unique service that
both builds relationships and provides useful education. And at
the end of the day, the having "given" to the General Practitioner
community, the result is a steady flow of high-quality referrals all
year long.