Why Hire a Specialized Medical and Dental Presentation Designer?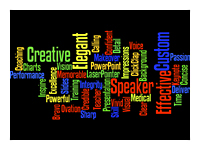 In the medical field, you are presenting healthcare options to your peers. Your message will impact real people in real need. Is there a lecture scenario that doesn't require your very best?
My presentation designer colleagues will tell you that there are times when it is ok to throw your slides together on your own, and times when you should hire a professional. In the business world, people are using PowerPoint as a tool to organize meeting agendas, to present project plans and document progress. They contend that a presentation designer is only needed for major business conferences, significant sales/investor pitches and company-wide meetings. These potential moneymaking scenarios make the cost of a presentation designer a compelling investment.
But they don't understand your world. You have already been identified as a thought leader due to your expertise, your research, your reputation, and your speaking skills. You have spent time developing content that reflects your formula for optimal patient outcomes. You have a passion for teaching and mentoring. Time is what is lacking, and here is where Laser Pointer can help.
You need a high-quality presentation to match your standard for excellence. A slide deck that will capture the attention of your audience with a story line and visual messaging that will contribute to their learning, in the way that adults learn.
A good presentation designer will take your existing content and add graphical interest. A better presentation designer will make recommendations based upon adult learning theories and instructional design principles. But the best presentation designers will have experience and knowledge of the specific field and audience members being addressed.
That's where hiring a designer familiar with your content is crucial. You wouldn't go to a gastroenterologist to treat a broken bone, why hire a presentation designer who handles corporate and sales presentations? Specialized designers understand the essentials of the subject matter, audience needs, and the expectations and restrictions within the medical and dental lecture environment. Choose a designer who has seen good and bad healthcare presentations and will not turn your work into a sales pitch. Select someone who will work with you to create the best reflection of you as you stand before your peers.
What about the cost? Most medical presentations are delivered multiple times, or are adapted for months, sometimes years. Investing in a presentation design service will increase audience reception, improve your reputation, and yield further lecture invitations, as your presentation will rise above the pack.
Laser Pointer presentation design service offers over 15 years experience in the medical and dental education field, a certification in instructional design and a passion for excellence. Contact us for an estimate for your next presentation.